More info
Aluminium-zinc Master Alloy is a semi-finished product and can be formed in different shapes, which is used as a reducing agent and additive in the metallurgical industry. It is added to a melt to achieve the desired result and used to substitute pure metal because it is very economical and saves energy and production time. The common alloys are AlZn10%, 20%, 30% or customized. Heeger Materials provides high-quality Aluminium-zinc Master Alloy in various shapes of waffle ingot, rod, and shot.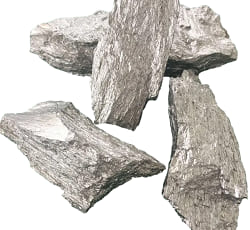 We are a supplier of magnesium, aluminum, copper, nickel, cobalt, and zinc-based master alloys. These master alloys are used in the manufacture of highly specialized metal products, including special steels and superalloys for aircraft engines, nuclear reactors, and other demanding applications.
Aluminium-zinc Master Alloy Applications
Hardeners: Used for enhancing the physical and mechanical properties of metal alloys.
Grain Refiners: Used for controlling the dispersion of individual crystals in metals to produce a finer and more uniform grain structure.
Modifiers & Special Alloys: Typically used to increase strength, ductility, and machinability.
Aluminium-zinc Master Alloy Packaging and Shipping
Our Aluminium-zinc Master Alloy is packaged in steel or fiber drums on pallets, wood or cardboard pallet boxes, and stretch-wrapped on pallets. Most items are available from stock for prompt shipment.
Inquiry to Heeger Materials
Items marked with an asterisk (*) are required.
Privacy Information:
Heeger Materials respects your privacy, and we will NOT sell or provide your personal data to other third parties, or allow them to use your personal data for their own purposes. However, we would like to send you information from time to time by mail or email about our products and special offers in addition to the interest categories you've selected above. Read our Privacy Policy