More info
Lanthanum Hexaboride Hollow Cathode also called lanthanum boride hollow cathode and LaB6 hollow cathode has excellent performance such as high conductivity, good stability, and lower evaporation rate. It is usually used as the cathode material widely used in many fields of modern technology, such as plasma generators, rf ion sources, mass spectrometers, electronic micromirrors, and some electronics.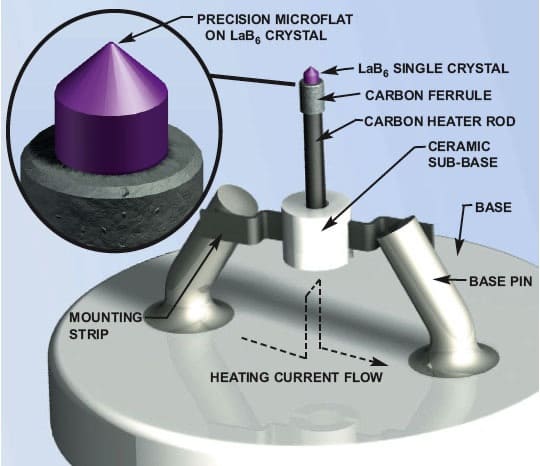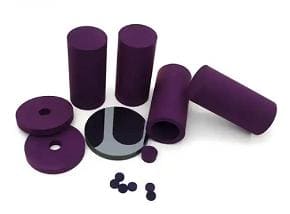 Lanthanum Hexaboride Hollow Cathode Property
Structure:

polycrystalline

Thermal conductivity:

W/mK

47

(20 °C)

Thermal expansion:

10-6K-1

6.2

(20 - 900 °C)

Density:

g/cm3

4.72

Melting point:

°C

2528

Spec. electrical resistance:

microohm cm

ca. 15

(20 °C)

Electrical conductivity:

S/cm

6.65 x 104

(20 °C)

Current density:

A/cm2

200

(1600 °C)

Electron emissivity:

eV

< 4
Lanthanum Hexaboride Hollow Cathode Applications
Scanning electron microscopes (SEM)
Transmission electron microscopes (TEM)
Electron beam welding
Electron beam melting
Particle accelerators
X-ray generators
Lanthanum Hexaboride Hollow Cathode Packing
Lanthanum Hexaboride (LaB6) Hollow Cathode is carefully packaged in cartons boxes with foam protection to minimize damage during storage and transportation and to preserve the quality of our products in their original condition.

Other Hexaborides Products
We also manufacture other Hexaborid-Ceramics Lanthanides products, such as Cerium Boride (CeB6), Calcium Hexaboride (CaB6), Europium Hexaboride (EuB6), etc.
Why choose us?
The minimum order quantity is 1 piece.
High purified material of 99.995%.
Competitive Pricing and lead time.
Inquiry to Heeger Materials
Items marked with an asterisk (*) are required.
Privacy Information:
Heeger Materials respects your privacy, and we will NOT sell or provide your personal data to other third parties, or allow them to use your personal data for their own purposes. However, we would like to send you information from time to time by mail or email about our products and special offers in addition to the interest categories you've selected above. Read our Privacy Policy