Sale!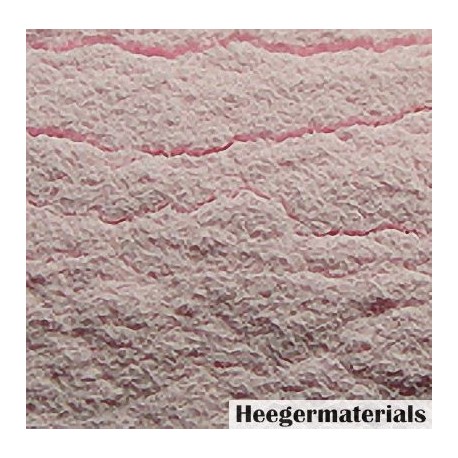 View larger
Erbium Oxide (Er2O3) Powder
HTRE902
New product
Erbium Oxide Er2O3 is applied in petroleum and environment protection catalysts, mischmetal, polishing powders and Rare Earth fertilizers. Heeger Materials (HM) provides Erbium Oxide Er2O3 at a competitive price. The purity and particle size can be customized.
In Stock
Warning: Last items in stock!
Availability date: 03/01/2013
Please contact us if you need customized services. We will contact you with the price and availability in 24 hours.
More info
Erbium(III) oxide, is synthesized from the lanthanide metal erbium. It has a pink color with a cubic crystal structure. Under certain conditions, erbium oxide can also have a hexagonal form.
HM stocks a wide variety of rare earth materials for use in electronics, petrochemical, metallurgy, machinery, energy, environmental protection, agriculture, and other fields. We also offer pure metals and compounds for R&D applications.
Erbium Oxide (Er2O3) Powder
Er2O3

99.9 %-99.999 %

-100-325 mesh

235-045-7

12061-16-4

Molar mass: 382.56 g/mol

Appearance: pink crystals

Density: 8.64 g/cm3

Melting point: 2,344 °C (4,251 °F; 2,617 K)

Boiling point: 3,290 °C (5,950 °F; 3,560 K)

Solubility in water: insoluble in water

Magnetic susceptibility (χ): +73,920·10−6 cm3/mol

Crystal structure: Cubic, cI80
Products of Erbium Oxide
Erbium Oxide (Er2O3) Granules

Erbium Oxide (Er2O3) Evaporation materials

Erbium Oxide (Er2O3) Powder
Specifications
Erbium Oxide also called Erbia, is an important colorant in glasses and porcelain enamel glazes. High purity Erbium Oxide is widely applied as a dopant in making optical fiber and amplifiers. It is particularly useful as an amplifier for fiber optic data transfer. Erbium Oxide has a pink color and is sometimes used as a colorant for glass, cubic zirconia, and porcelain. The glass is then often used in sunglasses and cheap jewelry.
Grade
99.9999%
99.999%
99.99%
99.9%
99%
CHEMICAL COMPOSITION
Er2O3 /TREO (% min.)
99.9999
99.999
99.99
99.9
99
TREO (% min.)
99.5
99
99
99
99
Loss On Ignition (% max.)
0.5
0.5
1
1
1
Rare Earth Impurities
ppm max.
ppm max.
ppm max.
% max.
% max.
Tb4O7/TREO
Dy2O3/TREO
Ho2O3/TREO
Tm2O3/TREO
Yb2O3/TREO
Lu2O3/TREO
Y2O3/TREO
0.1
0.1
0.2
0.5
0.5
0.5
0.3
2
5
5
2
1
1
1
20
10
30
50
10
10
20
0.01
0.01
0.035
0.03
0.03
0.05
0.1
0.05
0.1
0.3
0.3
0.3
0.1
0.6
Application
The applications of Er2O3 are varied due to their electrical, optical, and photoluminescence properties. Nanoscale materials doped with Er+3 are of much interest because they have special particle-size-dependent optical and electrical properties. Erbium oxide doped nanoparticle materials can be dispersed in glass or plastic for display purposes, such as display monitors. The spectroscopy of Er+3 electronic transitions in host crystals lattices of nanoparticles combined with ultrasonically formed geometries in an aqueous solution of carbon nanotubes is of great interest for the synthesis of photoluminescence nanoparticles in 'green' chemistry. Erbium oxide is among the most important rare earth metals used in biomedicine. The photoluminescence property of erbium oxide nanoparticles on carbon nanotubes makes them useful in biomedical applications. Erbium oxides are also used as gate dielectrics in semiconductor devices since it has a high dielectric constant (10-14) and a large bandgap. Erbium is sometimes used as a coloring for glasses and erbium oxide can also be used as a burnable neutron poison for nuclear fuel.
Inquiry to Heeger Materials
Items marked with an asterisk (*) are required.
Privacy Information:
Heeger Materials respects your privacy, and we will NOT sell or provide your personal data to other third parties, or allow them to use your personal data for their own purposes. However, we would like to send you information from time to time by mail or email about our products and special offers in addition to the interest categories you've selected above. Read our Privacy Policy