More info
Erbium Nitride (ErN) Powder is black powder. HM provides high-quality Erbium Nitride  (ErN) Powder at a competitive price, which can be mainly used in high-end electronics, sputtering targets, fluorescent powder, ceramic materials, magnetic materials, semiconductor materials, coatings, and other fields.
Formula: ErN
Density: 10.600g/cm

3

Mole Weight:181.27g·mol-1
Water Soluble: Reaction
CAS: 12020-21-2
Erbium Nitride Powder Specifications
Product
Purity     (%)
Particle D50 (μm)
                            Impurity (ppm)
Fe
 Si
 Al
Ca
 C
  S
 Ni
 Y
Dy
   ErN
   99.99
     7-8
20
15
10
15
 8
  8
  5
 5
 5
   ErN
   99.99
    10-20
50
40
40
40
20
 20
 10
 10
10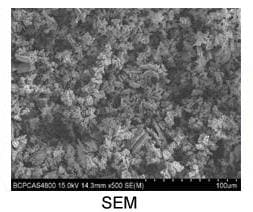 Erbium Nitride Powder Production Properties
Erbium Nitride  (ErN) Powder is black powder. It is chemically more reactive and easily oxidized in the air. High humidity or humid air will cause ErN to hydrolyze to form Er(OH)3 and ammonia.
Erbium Nitride Powder Storage Conditions
Keep the receptacle sealed, and stored in a cool and dry place, and make sure the workroom is well-ventilated or exhausted.
Inquiry to Heeger Materials
Items marked with an asterisk (*) are required.
Privacy Information:
Heeger Materials respects your privacy, and we will NOT sell or provide your personal data to other third parties, or allow them to use your personal data for their own purposes. However, we would like to send you information from time to time by mail or email about our products and special offers in addition to the interest categories you've selected above. Read our Privacy Policy