More info
Germanium Nitride (Ge3N4) Powder is insoluble in water and doesn't react with most mineral acids, which always be used in chemical vapor deposition (CVD). Heeger Materials can provide high-quality Germanium Nitride (Ge3N4) Powder at a competitive price.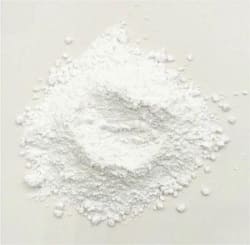 Formula: Ge3N4
Density: 5.35 g/cm3
Melting point: >850℃
Molecular weight: 273.95 g/mol
CAS: 12065-36-0
Particle size: -100 mesh, or customized
Germanium Nitride Powder Properties
Germanium Nitride (Ge3N4) Powder has corrosion resistance, high hardness, and adjustable band gap. It can be reduced by hydrogen at 700℃, which reacts with oxygen at 850℃, and with chlorine at 600~700℃.

Germanium Nitride Powder Applications
Used as high-temperature structural materials
Used as light-emitting diodes
Used as refractory ceramics
Used as an anti-reflection layer in integrated circuit devices
Used as catalysts
Germanium Nitride Powder Storage and Packing
Germanium Nitride (Ge3N4) Powder should be stored in a dry, cool, well-ventilated place, and the container should be sealed. The vacuum packing is 1kg/bag, 25kg/drum, or as required.

Inquiry to Heeger Materials
Items marked with an asterisk (*) are required.
Privacy Information:
Heeger Materials respects your privacy, and we will NOT sell or provide your personal data to other third parties, or allow them to use your personal data for their own purposes. However, we would like to send you information from time to time by mail or email about our products and special offers in addition to the interest categories you've selected above. Read our Privacy Policy