More info
Chromium Nitride (CrN) Powder is the only material in nitride with antiferromagnetic properties, which has wide application prospects. HM provides high-quality Chromium Nitride (CrN) powder at a competitive price, which can be used as an excellent steelmaking alloy additive.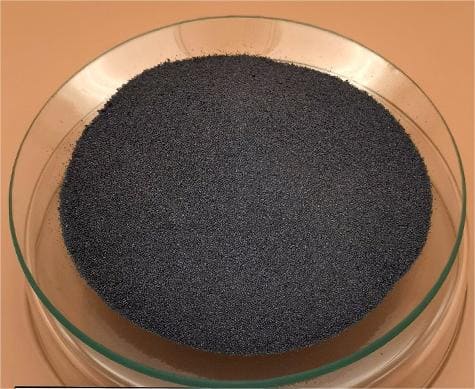 Formula: CrN /Cr2N
Density: 6.14 g/cm³
Molecular Weight: 66 g/mol
Melting point: 1282℃
Mole hardness:
CAS: 24094-93-7
Water soluble: Reaction
Chromium Nitride Powder Chemical Analysis
Product

Phase ratio

Purity (%)

Particle D50 (μm)

Impurity (ppm)

Fe

Si

Al

Cu

C

S

P

Pb

HM-CrxN-1

CrN: Cr2N=1:1

99.95

7-8

60

70

50

30

20

10

30

10

HM-CrxN-2

CrN: Cr2N=4:1

99.95

10-20

69

78

52

33

23

15

32

12

HM-CrxN-3

compound

99.95

10-20

66

65

55

38

26

12

31

15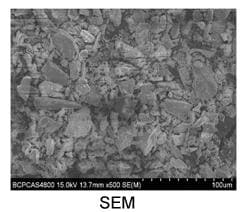 Chromium Nitride Powder Properties
Chromium Nitride (CrN) Powder has better wear resistance than titanium nitride. The nitrides of chromium are CrN and Cr2N, with CrN in a cubic strain structure and Cr2N in a hexagonal crystal system. CrN is insoluble in water and acid and has good chemical stability. CrN and Cr2N are metallurgical second phases of heat-resistant alloys and are used as strengthening additives, especially for special steels.
High purity: XRD detection of impurity-free phase, GDMS detection of metal impurity element content is low;
Distribution concentration: particle size standard normal distribution, no double or multiple peaks, no trailing;
Chromium Nitride Powder Production Process
Chromium Nitride Powder synthetic methods:
Low-carbon ferrochrome is nitrided in a vacuum heating furnace at 1150°C to obtain crude ferrochrome nitride, which is then treated with sulfuric acid to remove iron impurities. After filtering, washing, and drying, chromium nitride is obtained. It can also be made by the reaction of ammonia and chromium halide.
Cr2N is produced by heating the high-purity electrolytic chromium powder in a nitrogen stream at 150 mmHg (1 mmHg = 133.322 Pa) column for 160 h at 1060°C and then expelling the nitrogen and cooling it rapidly.
The low-carbon ferrochrome was crushed to <3mm and 1000kg was nitrided at 1150°C and nitrogen pressure 0.0987MPa for 24h in a vacuum heating furnace to obtain crude ferrochrome nitride. After cooling and crushing to <0.3mm, 1000kg was taken and nitrided again at 950℃ (other conditions as before). After cooling and crushing to <0.3mm, put into a 1m3 reactor and treated with sulfuric acid for 16h to dissolve the iron. Filtered, washed, and dried. Recovered 109kg of chromium nitride, containing Cr 78.6%, N2 19.7%, O2 0.80%, Fe 0.59%, and C 0.13%. It can also be produced by the reaction of ammonia and chromium halide.
Chromium Nitride Powder Applications
Chromium nitrides have excellent physical and mechanical properties and are considered superior to the widely used TIN coating materials. CrN has been successfully applied to the protective coating of piston rings. Compared with other ceramic membranes, CrN membranes have better heat resistance in practical applications. Among the various nitride ceramics, CrN ceramics are of interest for their high hardness, good thermal stability (even at high temperatures), and proper thermal conductivity.
Chromium Nitride Powder usually is used as a film coating. It has high hardness and good wear resistance, it is a highly valued wear-resistant coating. Chromium nitride films prepared by hollow cathode ion plating have a Cr+Cr2N two-phase organization, with a grain size of 20-70 nm and hardness of HV22 GPa. After vacuum annealing, it can be increased to HV35.4 GPa. Its wear resistance is better than that of CrC films. Reaction-sputtering chromium nitride film can get two kinds of Cr+Cr2N or single-phase CrN, whose hardness is in HV20-25GPa (HV11GPa for bulk CrN).
Used as wear-resistant coatings.
Chromium Nitride Powder Storage And Packing
Chromium Nitride (CrN) Powder should be kept sealed and stored in a cool and dry place, and make sure the workroom is well-ventilated or exhausted. The vacuum packing is 1kg/bag, 25kg/drum, or as required.

Inquiry to Heeger Materials
Items marked with an asterisk (*) are required.
Privacy Information:
Heeger Materials respects your privacy, and we will NOT sell or provide your personal data to other third parties, or allow them to use your personal data for their own purposes. However, we would like to send you information from time to time by mail or email about our products and special offers in addition to the interest categories you've selected above. Read our Privacy Policy