Sale!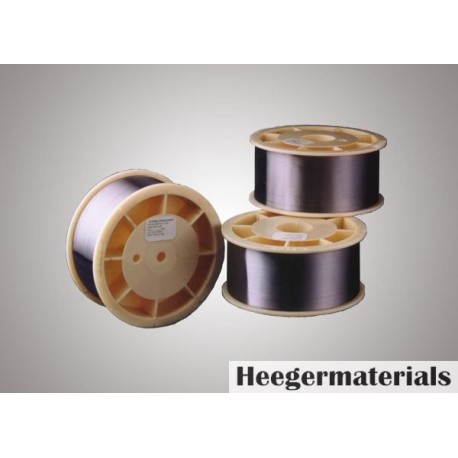 View larger
Niobium Wire (Nb Wire)
HTNB1103
New product
Niobium wire is drawn from a metal niobium rod, and high-purity niobium metal has high ductility. Niobium has a very low capture cross-section for thermal neutrons, so it is quite useful in the nuclear industry. HM provides customized Niobium Wire with the shortest lead time and the best price.
In Stock
Warning: Last items in stock!
Availability date: 03/01/2013
Please contact us if you need customized services. We will contact you with the price and availability in 24 hours.
More info
HM provides high-quality Niobium (Nb) Wire at a competitive price, which can be used in Scientific research or industrial production. The surface should be smooth, free of cracks and burrs, free of random winding, knots, crosses, continuous pits, and scratches, and clean and free of oil.
Material: RO4200, RO4210

Purity: 99.5% 99.9%, 99.95%
Size: Diameter: 0.25-3.0mm
Niobium Wire Chemical Composition
Material

Main elements (%)

Impurities (Maximum %)

Nb

Fe

Si

Ni

W

Mo

Ti

Ta

O

C

H

N

RO4200

Remainder

0.004

0.004

0.002

0.005

0.005

0.002

0.07

0.015

0.0040

0.0015

0.003

RO4210

Remainder

0.01

0.01

0.005

0.02

0.01

0.004

0.10

0.02

0.01

0.0015

0.01
Niobium Wire Mechanical Property
Grade

Tensile strength

psi(MPa), ≥

Yield strength

δ0.2, psi (MPa),≥

Elongation in 1"/2" gage length, %, ≥

>=0.010

<0.010

RO4200, RO4210

18000 (125)

12000 (85)

25

20
Niobium Wire Application
Niobium wire and niobium-zirconium alloy wire are widely used in the manufacture of high-pressure sodium lamps and anode leads of electrolytic capacitors. They have different applications in chemical, medical, eyewear, electric power, electroplating, electronics, aerospace, military, petroleum, and other fields.
Niobium Wire Packaging
The Niobium Wire will be packed in a wooden case supported with soft materials to ensure that the products thus packed will not shift inside the cases.
Inquiry to Heeger Materials
Items marked with an asterisk (*) are required.
Privacy Information:
Heeger Materials respects your privacy, and we will NOT sell or provide your personal data to other third parties, or allow them to use your personal data for their own purposes. However, we would like to send you information from time to time by mail or email about our products and special offers in addition to the interest categories you've selected above. Read our Privacy Policy