More info
Magnesium base master alloy has a uniform and stable composition, which can meet the requirements of magnesium alloy composition, microstructure regulation, and performance improvement. Our master alloys are produced in adherence to strict quality control practices utilizing an induction melting and alloying process followed by static mold or direct chill (DC) continuous casting. Static cast finished products are available in a variety of forms including full or cut waffle ingot and notch bar ingot. Magnesium Neodymium (Mg-Nd) Master Alloy master alloys are also available in the shot, screened and sized to specification, and in bagged shot.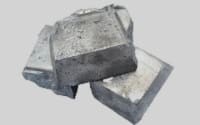 Magnesium Neodymium (Mg-Nd) Master Alloy Specification
Item

Purity (%)

Content of Nd

Impurities (%)

HM-MGND-1

99.9

25±2%

Fe

Si

Cu

Ni

Al

Co

≤0.003

≤0.01

≤0.005

≤0.001

≤0.01

≤0.0001

HM-MGND-2

99.9

30±2%

HM-MGND-3

99.9

35±2%

HM-MGND-4

99.9

Customized

Memo

The ratio could be customized.
Magnesium Neodymium (Mg-Nd) Master Alloy Application
Used for manufacturing aerospace components such as aircraft frames, engine parts, and landing gear.




Used in the automotive industry.

Used in the manufacturing of electronic devices, including smartphones, laptops, and other gadgets where magnetic shielding or improved magnetic performance is required.

Used in the production of sports equipment, particularly in the manufacturing of lightweight components for bicycles, golf clubs, tennis rackets, and other sports gear.
Magnesium Neodymium (Mg-Nd) Master Alloy
Product Line & Custom Capabilities
In addition to the master alloys presented herein, we produce other precision alloying additives. For free literature and more information, request specific bulletins.


Extruded Rod in Coil Extruded Rod
Standard Forms





Waffle Ingot Notch-bar Ingot Cut Waffle Shot Bagged Shot
Magnesium Neodymium (Mg-Nd) Master Alloy Packing and Shipping
Magnesium Neodymium (Mg-Nd) Master Alloys are packaged in steel or fiber drums on pallets, wood or cardboard pallet boxes, and stretch-wrapped on pallets. Most items are available from stock for prompt shipment.
Inquiry to Heeger Materials
Items marked with an asterisk (*) are required.
Privacy Information:
Heeger Materials respects your privacy, and we will NOT sell or provide your personal data to other third parties, or allow them to use your personal data for their own purposes. However, we would like to send you information from time to time by mail or email about our products and special offers in addition to the interest categories you've selected above. Read our Privacy Policy