Spherical Tungsten-Nickel-Iron Alloy Powder Particle Size
15-45μm, 15-53μm, 45-75μm, 45-105μm, 75-150μm(Various granularity can be customized according to customer requirements)
Spherical Tungsten-Nickel-Iron Alloy Powder Characteristics
High Purity

Low Oxygen

High Sphericity

Smooth Surface

No Satellite Ball

Full Density Inside The Particle

No Hollow Powder

Uniform Particle Size Distribution

Excellent Flow Performance

High Density
Spherical Tungsten-Nickel-Iron Alloy Powder Chemical composition
Chemical Composition

Element

Value (%)

Test Method

Element

Value (%)

Test Method

W

90-97

-

Sn

<0.001

ICP-AES

Ni

1.0~9.0

-

Sb

<0.001

ICP-AES

Fe

1.0~9.0

-

Cu

<0.003

ICP-AES

Mg

<0.005

ICP-AES

Ca

<0.001

ICP-AES

Mn

<0.004

ICP-AES

Pt

<0.001

ICP-AES

Gas Impurities

Element

Value(%)

Element

Value(%)

C

≤0.005

O

≤0.03

N

≤0.003

P

≤0.005

Density

Hall Flow Rate

Apparent Density

(g/cm3)

Tap Density

(g/cm3)

Value(s/50g)

≥8.5

≥9.5

≤8.0
Particle Size

Dis

tribution
5-25μm (D10=5~10μm, D50=15~20μm, D90=20~25μm)

15-45μm (D10=15~20μm,D50=25~30μm,D90=35~40μm)

15-53μm (D10=15~20μm,D50=25~35μm,D90=45~50μm)

45-75μm (D10=45~55μm,D50=55~65μm,D90=70~75μm)

45-105μm (D10=50~60μm,D50=75~85μm,D90=95~105μm)

75-150μm (D10=80~90μm,D50=110~125μm,D90=135~150μm)
It is a single peak normal distribution, and the laser particle size distribution can be referred to in the following figure.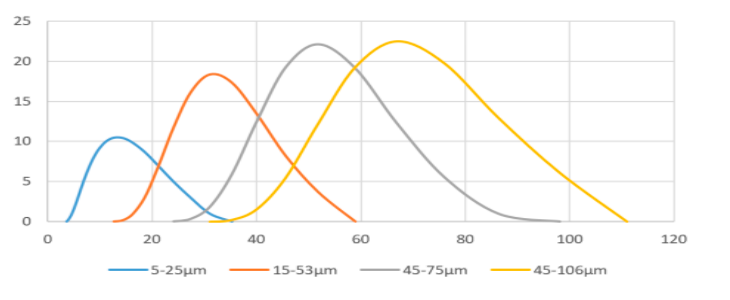 Spherical Tungsten-Nickel-Iron Alloy Powder Surface topography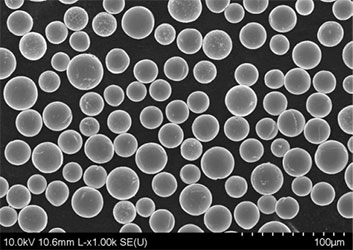 Spherical Tungsten-Nickel-Iron Alloy Powder Application
Tungsten-nickel-iron alloy is a kind of tungsten matrix, adding the appropriate amount of nickel, and iron composition of the ternary alloy, tungsten content is about 90%~98%, and the mass ratio of nickel and iron is usually 7:3 or 1:1. Radiofrequency plasma spheroidized tungsten-nickel-iron alloy powder has the characteristics of high sphericity, good fluidity, high purity, and large loose density, etc. It can be used in medical instruments, national defense, the nuclear industry, and other fields.
Application Field
Laser/electron beam additive manufacturing (SLM/EBM), laser direct deposition (DLD), powder hot isostatic pressing (HIP), metal injection molding (MIM), powder metallurgy (PM), laser cladding (LC), and other processes.
Spherical Tungsten-Nickel-Iron Alloy Powder Packaging
Vacuum encapsulation, 1kg/bag, 2kg/bag; Iron bucket lined with plastic bag 25 kg/bucket; Special packaging can be made according to customer requirements.