Gadolinium is a soft, shiny, ductile, silvery metal which can be used in control rods for nuclear reactors and nuclear power plants. It is also used in alloys for making magnets, electronic components and data storage disks. Its compounds are useful in magnetic resonance imaging (MRI), particularly in diagnosing cancerous tumours. The antomic mass of Gadolinium is 157.25 amu and the melting point is 1311.0 °C (1584.15 K, 2391.8 °F). The density is 7.895 and the crystal is Hexagonal. Besides sputtering target, we also can offer Gadolinium  powder, bar, sheet, foil, disc, ribbon and filaments.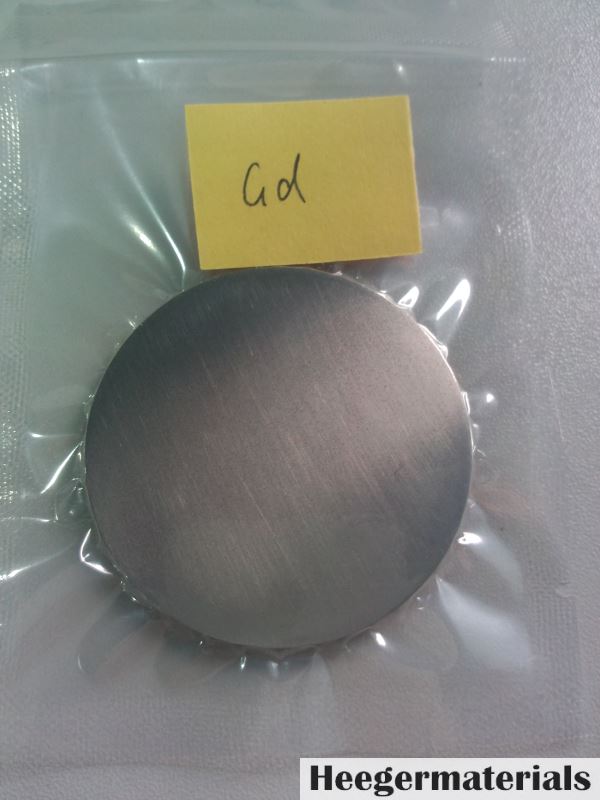 We specialize in producing custom compositions for commercial and research applications and for new proprietary technologies. Other sputtering targets, evaporation sources and other deposition materials is listed by material throughout the website.
Other Purity for Gadolinium (Gd) Sputtering Target:99.9%
Other Shape for Gadolinium (Gd) Sputtering Target: Discs, Plates, Column Targets, Step Targets, Custom-made
Packing: The Gadolinium (Gd) Sputtering Target are vacuum sealed. The MSDS and Material Certification Sheets will be packed with the product.
Lead time: 2-5 weeks for sputter target, 1-2 weeks for bonding.