HM provides high-quality Spherical Powder-Cobalt Based (CoCrMo) Alloys at a competitive price, which can be used in Scientific research or industrial production.
Material: CoCrMo
Particle Size: 0-35um,15-53um,15-63um,45-105um
Particle Shape: Spherical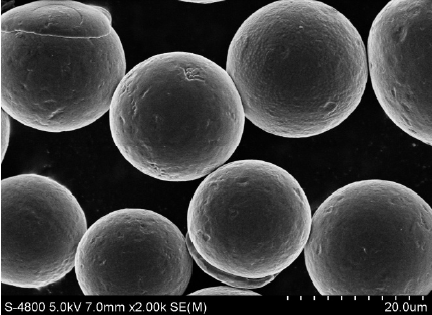 Spherical 
Cobalt Alloy Powder Chemical Composition
| | | |
| --- | --- | --- |
| Element  | Min [%]  | Max [%]  |
| Co | Bal. | Bal. |
| Cr | 27 | 30 |
| Mo | 5 | 7 |
| W | - | 0.2 |
| Si | - | 1.0 |
| O | - | 0.10 |
Spherical Cobalt Alloy Powder 

C

haracteristics
Cobalt-based alloy is a kind of hard alloy that can resist various types of wear and corrosion as well as high-temperature oxidation. It is commonly known as cobalt-chrome-tungsten (molybdenum) or Stellite( an alloy invented by Elwood Haynes in 1907). Cobalt-based alloys are alloys in which cobalt is the principal component and contains significant amounts of nickel, chromium, tungsten, and small amounts of molybdenum, niobium, tantalum, titanium, lanthanum, and occasionally iron. Depending on the composition of the alloy, they can be made into welding wire, powder for hard surfacing, thermal spraying, spray welding, and other processes, as well as cast and forged parts and powder metallurgy parts.
Spherical 
Cobalt Alloy Powder 
Applicable processes
According to its application, cobalt base alloy can be divided into the cobalt-base wear-resistant alloy, cobalt-base high-temperature resistant alloy and cobalt base wear resistance, and aqueous solution corrosion alloy. General working conditions, in fact, are both wear resistance and high-temperature resistance or wear resistance and corrosion resistance, some working conditions may also require high-temperature resistance and wear resistance and corrosion resistance, and the more complex working conditions, the more can reflect the advantages of cobalt-based alloy.
Spherical 
Cobalt Alloy Powder A
pplication
General cobalt-based superalloys lack a uniform strengthening phase. Although the strength at medium temperature is low (only 50-75% of that of nickel-based alloys), they have high strength, good thermal fatigue resistance, thermal corrosion resistance, and abrasion resistance at higher than 980℃, and good weldability. It is suitable for the production of guide vane and nozzle guide vane of aviation jet engine, industrial gas turbine, naval gas turbine, diesel nozzle, etc.
Spherical 
Cobalt Alloy Powder 

Packaging

Vacuum packaging, 1kg/bag, 2kg/bag; iron drum lined with plastic bag 25 kg/drum; special packaging is available according to user requirements.
Particle Size Description
5-25μm (D10=5~10μm, D50=15~20μm, D90=20~25μm)

15-45μm (D10=15~20μm,D50=25~30μm,D90=35~40μm)

15-53μm (D10=15~20μm,D50=25~35μm,D90=45~50μm)

45-75μm (D10=45~55μm,D50=55~65μm,D90=70~75μm)

45-105μm (D10=50~60μm,D50=75~85μm,D90=95~105μm)

75-150μm (D10=80~90μm,D50=110~125μm,D90=135~150μm)