Stainless Steel: 17-4PH Spherical Powder
Alternative designation: 1.4542
17-4PH is stainless steel with high yield strength, high wear resistance as well as good corrosion resistance. It is possible to be used in low temperatures and has excellent impact strength even at minus temperatures. Due to the combination of corrosion resistance and good mechanical properties, this material 17-4PH is also suitable for use in maritime environments, whenever the corrosion resistance and mechanical properties of martensitic steels are insufficient. Standing seawater is vulnerable to corrosion fissures. 17-4PH is used in plant construction, chemical industry, wood industry, offshore, shipbuilding, mechanical engineering, oil industry, paper industry, air, and water industry. space travel, sports, and leisure industry.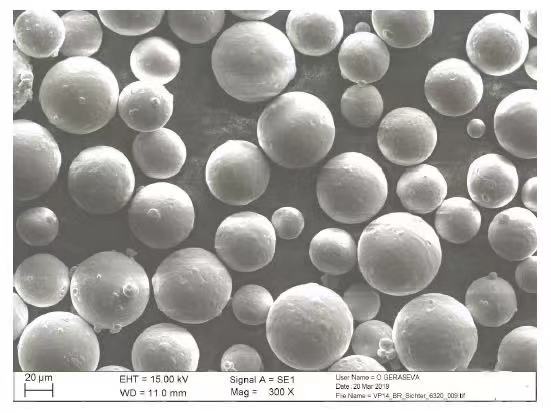 17-4PH Spherical Powder Characteristics
Chemical Composition [ wt.% ]
Element Min Max
Cr 15.0 17.0
Ni 3.0 5.0
Cu 3.0 5.0
Nb 5xC 0.45
Fe Balance Balance
17-4PH Spherical Powder Particle Size
5-25μm, 15-45μm, 15-53μm, 45-75μm, 45-105μm, 75-150μm. (Various granularities can be customized according to customer requirements)
Stainless Steel Spherical Powder Production
We developed a unique powder production process to provide perfect spherical powders (patent pending). Any metal or alloy can be atomized according to your needs. Our processes are run with Argon as atomization gas in a dust-free production environment to guarantee maximum product quality. Any process (production, classifying, screening, packaging) can be done under Argon 5.0, so oxygen-free production can be guaranteed.
Stainless Steel Spherical Powder Screening
With various screening technologies (Cucciolini, Russel-Finex, Kellner) we can screen your powder at grain sizes from 10 to 1000 microns.
Stainless Steel Spherical Powder Classifying
With our state-of-the-art classifiers (Noll) we can provide narrow particle size distributions, produce ultrafine powders (d99<5 microns) or remove dust from your powders.
Stainless Steel Spherical Powder Packaging
We pack the powders according to your needs and manage transport organization.