Titanium Alloy Ti6Al4V Spherical Powder
Alternative designation: Ti Grade 5 or Ti64
Ti6Al4V, or Grade 5 titanium, is the most commonly used of all titanium alloys. Its usability lies in its many benefits. Ti 6Al-4V may be heat-treated to increase its strength. It can be used in welded construction at service temperatures of more than 300°C. This alloy offers its high strength at a lightweight, useful formability, and high corrosion resistance. Ti 6AI-4V is used in many industries such as aerospace, medical, marine, and chemical processing industries, for example in aircraft turbines, engine components, aircraft structural components, aerospace fasteners, high-performance automatic parts, marine applications, sports equipment.
Powder characteristics:
Chemical Composition [ wt.% ]
Element Min Max
Al 5.5 6.75
V 3.5 4.5
Fe 0.4
O 0.2
C 0.08
N 0.05
Ti Balance Balance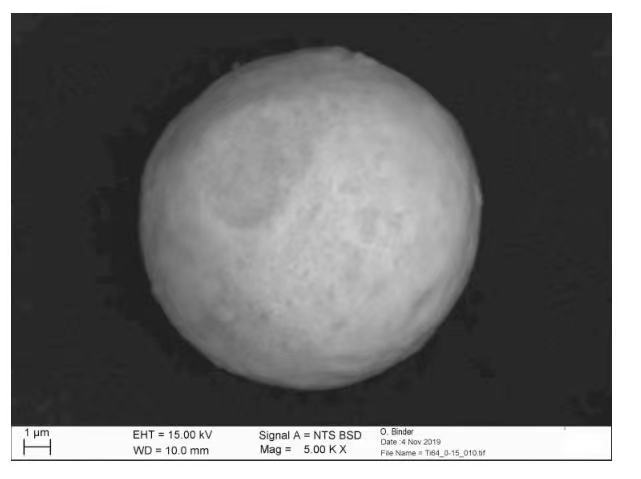 Powder production:
We developed a unique powder production process to provide perfect spherical powders (patent pending). Any metal or alloy can be atomized according to your needs. Our processes are run with Argon as atomization gas in a dust-free production environment to guarantee maximum product quality. Any process (production, classifying, screening, packaging) can be done under Argon 5.0, so oxygen-free production can be guaranteed.
Powder screening:
With various screening technologies (Cucciolini, Russel-Finex, Kellner) we can screen your powder at grain sizes from 10 to 1000 microns.
Powder classifying:
With our state-of-the-art classifiers (Noll) we can provide narrow particle size distributions, produce ultrafine powders (d99<5 microns) or remove dust from your powders.
Packaging:
We pack the powders according to your needs and manage transport organization.