HM provides high-quality Titanium Spherical Powder at a competitive price, which can be used in Scientific research or industrial production.
Titanium Alloy: Ti6Al4V-ELI Spherical Powder
Alternative designation: Ti Grade 23 or Ti64-ELI
Ti6AL4V-ELI, or Grade 23, is the higher purity version of Ti6Al4V with very good biocompatibility. It's the top choice for any sort of situation where a combination of high strength, lightweight, good corrosion resistance, and high toughness are required. It has a superior damage tolerance to other alloys. These benefits make Ti6AL4V-ELI the ultimate dental and medical titanium grade. It can be used in biomedical applications such as implantable components due to its biocompatibility, good fatigue strength, and low modulus. It can also be used in detailed surgical procedures.
Powder characteristics:
Chemical Composition [ wt.% ]
Element Min Max
Al 5.5 6.5
V 3.5 4.5
Fe 0.25
O 0.13
C 0.08
N 0.05
Ti Balance Balance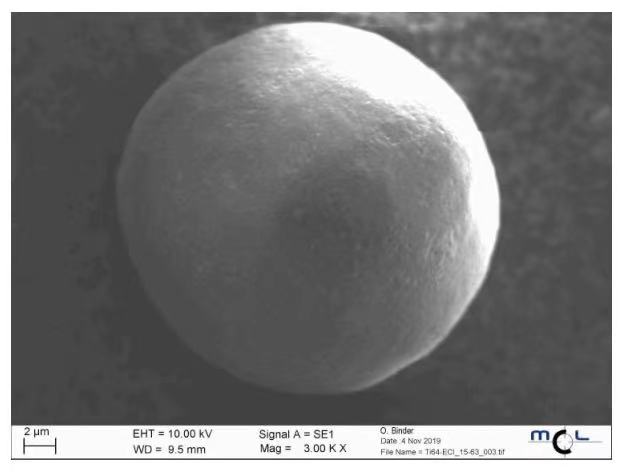 Powder production
We developed a unique powder production process to provide perfect spherical powders (patent pending). Any metal or alloy can be atomized according to your needs. Our processes are run with Argon as atomization gas in a dust-free production environment to guarantee maximum product quality. Any process (production, classifying, screening, packaging) can be done under Argon 5.0, so oxygen-free production can be guaranteed.
Powder screening
With various screening technologies (Cucciolini, Russel-Finex, Kellner) we can screen your powder at grain sizes from 10 to 1000 microns.
Powder classifying
With our state-of-the-art classifiers (Noll) we can provide narrow particle size distributions, produce ultrafine powders (d99<5 microns) or remove dust from your powders.
Packaging and Shipping
We pack the powders according to your needs and manage transport organization.