More info
Lutetium (Lu) Sputtering Target has versatility and unique properties, which make it valuable in various fields ranging from electronics and optics to medicine and energy. HM provides high-quality Lutetium (Lu) Sputtering Target for research and industry purposes at competitive prices.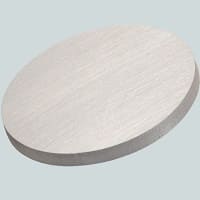 CAS: 7439-94-3
High purity and density
Low particle
Uniform film thickness distribution
High efficiency in the use
Lutetium Sputtering Target Dimensions
Circular Sputtering Targets

Diameter

1.0"

2.0"

3.0"

4.0"

5.0"

6.0"

up to 21"

Rectangular Sputtering Targets

Width x Length

5" x 12"

5" x 15"

5" x 20"

5" x 22"

6" x 20"

Thickness

0.125", 0.25"
Sputtering Targets Requirements
General requirements include size, flatness, purity, impurity content, density, N/O/C/S, grain size, and defect control. Special requirements include surface roughness, resistance value, grain size uniformity, composition and tissue uniformity, magnetic conductivity, ultra-high density, ultra-fine grains, etc.
Lutetium Sputtering Target Applications
Used in the electronics and information industry.
Used in glass coating field.
Used in wear-resistant materials.
Used in high-temperature corrosion resistance.
Used in high-grade decorative goods.
Lutetium Sputtering Target Delivery and Packaging
Lutetium (Lu) Sputtering Target has a lead time of 2-5 weeks. It will be packaged in a vacuum-sealed plastic bag with a moisture barrier. The MSDS and COA will be packed with the product.
Customized Sputtering Targets
Heeger Materials specializes in producing custom compositions for commercial and research applications and for new proprietary technologies. Other magnetron sputtering targets, evaporation sources, and deposition materials are listed by material throughout the website.
Inquiry to Heeger Materials
Items marked with an asterisk (*) are required.
Privacy Information:
Heeger Materials respects your privacy, and we will NOT sell or provide your personal data to other third parties, or allow them to use your personal data for their own purposes. However, we would like to send you information from time to time by mail or email about our products and special offers in addition to the interest categories you've selected above. Read our Privacy Policy