Sale!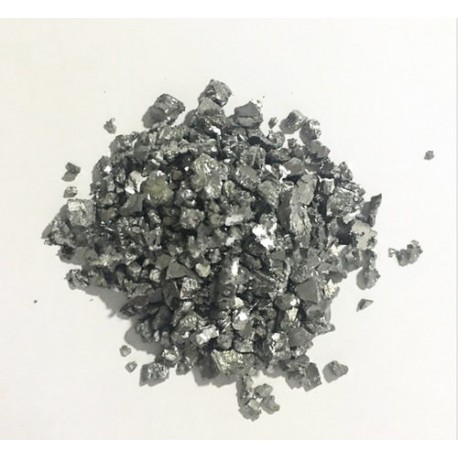 View larger
Gallium Arsenide | GaAs | CAS 1303-00-0
HTHP640
New product
Heeger Materials offers a selection of over 100 high purity products, including metals, metal oxides and metal salts, with 99.999% purity or higher. We can provide Gallium Arsenide (GaAs) with the purity of 99.99%, 99.999%,99.9999% and 99.99999% in size of ingot, lump and powder.
In Stock
Warning: Last items in stock!
Availability date: 03/01/2013
Please contact us if you need customized services. We will contact you with the price and availability in 24 hours.
More info
High-purity and ultra-high purity Gallium Arsenide (GaAs) materials are crucial components for the research, development, and production of advanced technologies which require optimum properties, performance, and quality.
Gallium arsenide (GaAs) is a compound of the elements gallium and arsenic. It is an III-V direct bandgap semiconductor with a zinc blend crystal structure.
Chemical formula:GaAs
Molar mass:144.645 g/mol
Appearance:Gray crystals
Odor:garlic-like when moistened
Density:5.3176 g/cm3
Melting point:1,238 °C (2,260 °F; 1,511 K)
Solubility in water:insoluble
Solubility:soluble in HCl
insoluble in ethanol, methanol, acetone
Band gap:1.441 eV (at 300 K)
Electron mobility:9000 cm2/(V·s) (at 300 K)
Magnetic susceptibility (χ):-16.2×10−6 cgs
Thermal conductivity:0.56 W/(cm·K) (at 300 K)
Refractive index (nD):3.3
Crystal structure:Zinc blende
Products
Gallium Arsenide (GaAs) Ingot

Gallium Arsenide (GaAs) Chip

Gallium Arsenide (GaAs) Powder

Gallium Arsenide (GaAs) Sputtering Target
Application
Semiconductors (transistors, lasers, solar cells)Gallium arsenide is used in semiconductor applications. It is also used in the manufacture of devices such as microwave frequency integrated circuits, Gunn diodes, monolithic microwave integrated circuits, infrared light-emitting diodes, laser diodes, and optical windows. Further, it is used for single-crystalline thin-film solar cells and multi-junction solar cells. In addition, it is used for the detection of X-rays.
Package
It is packed with dacron film, then covered with a sealed plastic film bag or in a polyethylene bottle.
Class 6.1

215-114-8

UN1557

1303-00-0

PG II
Inquiry to Heeger Materials
Items marked with an asterisk (*) are required.
Privacy Information:
Heeger Materials respects your privacy, and we will NOT sell or provide your personal data to other third parties, or allow them to use your personal data for their own purposes. However, we would like to send you information from time to time by mail or email about our products and special offers in addition to the interest categories you've selected above. Read our Privacy Policy