Cadmium Selenide (CdSe) effectively absorbs energy from visible light and has been widely applied in the fields of photoelectrochemical solar cells, photoelectrochemical sensing, photocatalysts, and gas sensors.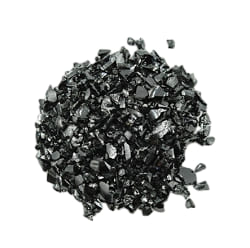 Physical properties
Molecular weight: 191.377
Wurtzite type hexagonal crystal, dark red, dark brown, brown-black, dark green four colors
Melting point: 1350℃
Bandgap: 2.5 eV
Density: 5.8 g/cm3
Specifications
Chemical purity: High-purity cadmium selenide: CdSe-05 has a purity of more than 99.999%, and the total impurity content of silver, aluminum, copper, iron, magnesium, nickel, lead, calcium, zinc, tin, and tellurium is less than 10ppm.
Application
Used to make CdSe single crystals.
Used to make CdSe evaporation materials.
Used to make photovoltaic cells.
Used to make rectifiers.
Used to make luminous paints.
Technical docking
Purification of elemental cadmium and selenium (the processes used are anode slime enrichment, electrolysis, vacuum distillation, hydrodeoxygenation)-CVD synthesis of binary alloy: 1mol Cd+1molSe=1molCdSe;
Inspection
ICP-MS; XRD; laser particle size analyzer.
Service
Provide free samples, MSDS practical protective measures, and provide material application solutions. (Optical glass industry)
Packing
Cadmium Selenide (CdSe) is carefully packaged in carton boxes with foam protection to minimize damage during storage and transportation and to preserve the quality of our products in their original condition. The vacuum packing is 1kg/bag, 25kg/barrel, or based on specific requirements.