More info
CuCrZr Spherical Copper Alloy Powder has excellent properties that make it useful for machinery construction and electrical applications, mold cooling inserts, and high-performance applications in the aerospace or automotive industry.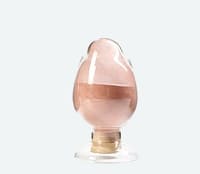 CuCrZr Spherical Copper Alloy Powder Specifications
Product

Chemical Composition(wt%)

Cu

Cr

Zr

Fe

Si

O

N

CuCrZr

Balance

0.5-1.2

0.03-0.3

<0.08

≤0.1

≤0.05

≤0.05

Physical Properties

Particle Size Distribution

Apparent Density (g/cm3)

Hall Flow Rate (s/50g)

D10

D50

D90

15-53 μm

15 μm

30 μm

45 μm

≥4.1

≤15

45-105 μm

58 μm

76 μm

102 μm

≥4.6

≤20

Note

The particle size is 5-25μm, 15-53μm, 45-105μm, 75-150μm, or customized.
CuCrZr Spherical Copper Alloy Powder Properties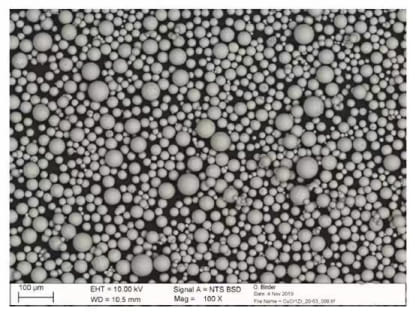 High powder sphericity
Smooth surface
Fewer satellite balls
Low oxygen content
Uniform particle size distribution
Good fluidity
High bulk density and tap density
CuCrZr Spherical Copper Alloy Powder Production
We developed a unique powder production process to provide perfect spherical powders. Any metal or alloy can be atomized according to your needs. Our processes are run with Argon as atomization gas in a dust-free production environment to guarantee maximum product quality. Any process (production, classifying, screening, packaging) can be done under Argon 5.0, so oxygen-free production can be guaranteed.
CuCrZr Spherical Copper Alloy Powder Applications
Used in the production of valves, bearings, gears, and other high-stress components.
Use in injection molding, powder metallurgy, and other forming processes.
Used in marine, chemical, and nuclear applications.
Used in gas turbines, jet engines, and other high-temperature systems.
Used in medical implants and devices without causing adverse reactions.
CuCrZr Spherical Copper Alloy Powder Storage and Packing
Spherical CuCr1Zr Copper Alloy Powder should be kept sealed and stored in a dry and cool place, avoiding exposure to air for a long time. The vacuum-sealed packing is 100g/bag, 500g/bag, 1kg/bag, 25kg/drum, or as required.

Other
Copper Based Alloys
Copper Based Alloys

Standard

Nominal Composition

Application

C70320 CW112C

CuNi3Si

High Conductibility

C18000 CW111C

CuNi2SiCr

High Conductibility

C18150 CW106

CuCrZr

Wear Resistance

OFHC Cu

Cu 99.99% O<300 ppm

Highest Level of Purity

OFHC Cu

Cu High Oxygen

Modified for Specific Laser

CWx (Modified)

Adjusted Composition

Customer Specific
Inquiry to Heeger Materials
Items marked with an asterisk (*) are required.
Privacy Information:
Heeger Materials respects your privacy, and we will NOT sell or provide your personal data to other third parties, or allow them to use your personal data for their own purposes. However, we would like to send you information from time to time by mail or email about our products and special offers in addition to the interest categories you've selected above. Read our Privacy Policy