Stainless Steel 304L Spherical Powder
Alternative designation: 1.4306
304L is stainless steel with low carbon content and good corrosion resistance. This steel is used mainly in the chemical and pharmaceutical industries. A high gloss surface finish can be achieved.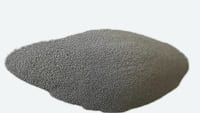 304L Spherical Powder Characteristics
Chemical Composition [ wt.% ]:
Element Min Max
Cr 18.0 20.0
Ni 10.0 11.0
C 0.03
Fe Balance Balance
304L Spherical Powder Particle Size
5-25μm, 15-45μm, 15-53μm, 45-75μm, 45-105μm, 75-150μm. (Various granularities can be customized according to customer requirements)
Stainless Steel Spherical Powder Production
We developed a unique powder production process to provide perfect spherical powders (patent pending). Any metal or alloy can be atomized according to your needs. Our processes are run with Argon as atomization gas in a dust-free production environment to guarantee maximum product quality. Any process (production, classifying, screening, packaging) can be done under Argon 5.0, so oxygen-free production can be guaranteed.
Stainless Steel Spherical Powder Screening
With various screening technologies (Cucciolini, Russel-Finex, Kellner) we can screen your powder at grain sizes from 10 to 1000 microns.
Stainless Steel Spherical Powder Classifying
With our state-of-the-art classifiers (Noll) we can provide narrow particle size distributions, produce ultrafine powders (d99<5 microns), or remove dust from your powders.
Stainless Steel Spherical Powder Packaging
Stainless Steel 304L Spherical Powder should be stored in a sealed container in a dry and cool place, and should not be exposed to air for an extended period of time. We offer vacuum-sealed packaging including 100g/bag, 500g/bag, 1kg/bag, and 25kg/drum, or we can offer customized packaging as per specific requirements.