Tellurium (Te) is a quasi-metallic species with the elemental symbol Te. It is soluble in sulfuric acid, nitric acid, royal water, potassium cyanide, and potassium hydroxide, and insoluble in cold water and hot water, carbon disulfide. High-purity tellurium is made from tellurium powder and refined by sodium polysulfide with a purity of 99.999%. For semiconductor devices, alloy, chemical raw materials, and cast iron, rubber, and glass industries as additives.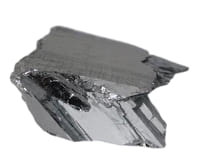 High-purity and ultra-high-purity Tellurium (Te) materials are crucial components for the research, development, and production of advanced technologies that require optimum properties, performance, and quality.
Molecular Formula: Te

CAS No.: 13494-80-9

EINECS No.: 236-813-4

Melting Point: 449.51°C

Boiling Point: 998

℃
Tellurium granule is made from Tellurium Ingot, it presents the properties of metal while having non-metallic characteristics. It has a spherical granule and an irregular granule. Tellurium Granule can be produced in size range from 0.5mm to 10mm, and fine sizes like 0.5mm to 1.5mm, 1mm to 3mm, and 1mm to 10mm are our typical type of Tellurium Granule.
Tellurium Lump is a rare, silvery-white, semi-metallic element that exhibits both metallic and non-metallic traits. The 99.99% grade is an irregular shape and is made by a physical crushing machine. High purity grades of 99.999% and 99.9999% are made by distillation technology and the shape form is like roofing tile. We can supply Tellurium lump purity range from 99.99% to 99.9999%.
Tellurium Ingot is a heavy and rare minor metal that is used in steel alloys and as a light-sensitive semiconductor in solar cell technology. Tellurium does not react with air or water and, in molten form, it is corrosive to copper, iron, and stainless steel.
Application:
Tellurium is used in the metallurgical industry: steel and copper alloy can improve its cutting performance and increase hardness.

Tellurium in white cast iron is used as a carbide stabilizer to make the surface strong and wear-resistant.

Lead-containing small tellurium can improve corrosion resistance, wear resistance, and strength of materials and serve as the sheath of submarine cable.

Lead adding tellurium can increase lead hardness to make battery plates and printed lead.

Tellurium can be used as an additive for a petroleum cracking catalyst and as a catalyst for making ethylene glycol.

Tellurium oxide is used as a colorant for glass.

High-purity tellurium can serve as the alloy composition of the temperature-difference electric material.

Tellurium and several tellurides are semiconductor materials.

Ultra-pure tellurium single crystal is a new type of infrared material.

Tellurium is a fuse for the delayed explosion in timing explosives.

As a raw material for manufacturing fungicides, tellurium in medical treatment can also extract isotopes of iodine to cure thyroid diseases.
Advantage:
Each content of Cu, Fe, Pb, and Cd, is less than 10ppm by wt to the 99.99% grade.
Strict quality control for procedures of raw material, process control, and pre-delivery.
ISO9001 and ISO14001 certificated manufacturers.
Great technical capability to be a valued and long-term supplier.
Technical support: 24-hour technical support by e-mail or call.
Packing:
Tellurium (Te) is carefully packaged in carton boxes with foam protection to minimize damage during storage and transportation and to preserve the quality of our products in their original condition. The vacuum packing is 1kg/bag, 25kg/barrel, or based on specific requirements.