Zinc, atomic number is 30, and has an atomic quantity of 65.38. Zinc is a silvery-white slightly pale blue metal with a density of 7.14g/cm3 and a melting point of 419.5℃. At room temperature; soft at 100~150℃ and dry after over 200℃. The chemical nature of zinc is lively, producing a thin and dense alkali zinc carbonate film, which prevents further oxidation. When the temperature reaches 225℃, the zinc is oxidized violently.
Zinc is difficult to burn in the air and emits a strong white light in oxygen. The zinc surface has a layer of zinc oxide and white smoke burns. The main component of white smoke is zinc oxide, which not only blocks zinc from burning but also reflects the flame color to form a miserable white light. Zinc is easily soluble in acid, and it is also easy to replace gold, silver, and copper from the solution. The oxide film of zinc is high, but the metal zinc melting point is very low, so heat the zinc film on the alcohol lamp, the zinc film melts soft but does not fall, precisely because of the action of the oxide film. Zinc is mainly used in steel, metallurgy, mechanical, electrical, chemical, light, military, and medicine.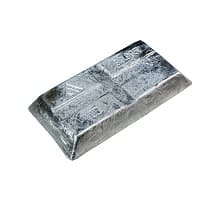 High-purity and ultra-high-purity Zinc (Zn) materials are crucial components for the research, development, and production of advanced technologies that require optimum properties, performance, and quality.
Application:
Used for the surface plating of steel and steel structural parts (such as a galvanized plate), widely used in the automotive, construction, shipbuilding, light industry, and other industries.
Used in alloys to improve the performance.
Used to make batteries, such as zinc and manganese batteries and zinc-air batteries.
Used as shielding material.
Packing:
Zinc (Zn) is carefully packaged in carton boxes with foam protection to minimize damage during storage and transportation and to preserve the quality of our products in their original condition. The vacuum packing is 1kg/bag, 25kg/barrel, or based on specific requirements.