Antimony (Sb), metal element, element symbol Sb, atomic number 51, silvery-white shiny hard, and brittle metal (often made into bars, blocks, powder, and other shapes). There are scaly crystal structures. It gradually loses its luster in the wet air, and the strong heat burns into the oxide of white antimony. It is easily soluble in royal water and soluble in concentrated sulfuric acid. Relative density is 6.68, melting point 630℃, boiling point 1635℃, atomic radius is 1.28A, electronegative 2.2.
Heeger Materials offers a selection of over 100 high-purity products, including metals, metal oxides, and metal salts, with 99.999% purity or higher.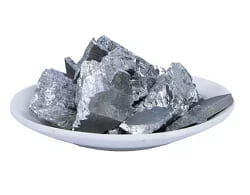 High-purity and ultra-high-purity Antimony (Sb) materials are crucial components for the research, development, and production of advanced technologies that require optimum properties, performance, and quality.
Application:
60% of antimony is used to produce flame retardant, while 20% of antimony is used to make alloy materials, sliding bearings, and solders in batteries.
Flame-retardant agent: The primary use of antimony is its antimony trioxide for making refractory materials. It is almost always used with halogen flame retardants in addition to halogen-containing polymer flame retardants.
Alloy: Antimony and lead form a versatile alloy with improved hardness compared with mechanical strength. In most cases where lead is used varying amounts of antimony are added to make alloys.
Other applications: The other antimony is almost all used in the three aspects described below. The first application is the stabilizer and catalyst for the production of polyethylene terephthalate. The second application is a clarifier to remove bubbles visible in the glass for the manufacture of a television screen because antimony ions are kept in contact with oxygen. The third application is pigment. The application of antimony in the semiconductor industry is evolving, primarily as a dopant in superconductivity type n-silicon wafers, a material for the production of diodes, infrared detectors, and Hall effect elements.
Packing:
Antimony (Sb) is carefully packaged in carton boxes with foam protection to minimize damage during storage and transportation and to preserve the quality of our products in their original condition. The vacuum packing is 1kg/bag, 25kg/barrel, or based on specific requirements.