Sale!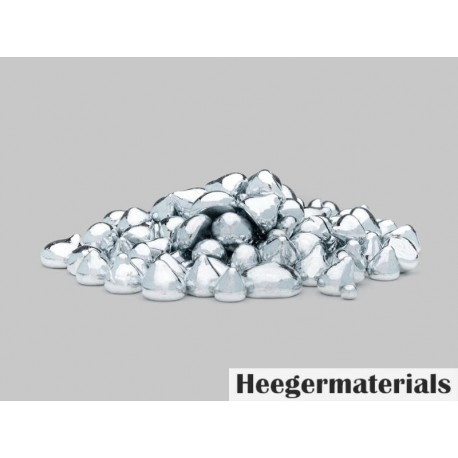 View larger
Gallium | Ga
HTHP593
New product
Gallium (Ga) has excellent electrical and thermal conductivity properties, along with good malleability. Heeger Materials can provide the best Gallium (Ga) with a purity of 99.99%, 99.999%,99.9999%, and 99.99999% in size of piece and liquid. The purity and size can be tailored according to specific requirements.
In Stock
Warning: Last items in stock!
Availability date: 03/01/2013
Please contact us if you need customized services. We will contact you with the price and availability in 24 hours.
More info
Gallium (Ga), a light blue metal, becomes a silvery-white liquid at 29.76℃. Liquid gallium is easily overcooled or is cooled to 0℃ without curing—Microsoluble in mercury, forming a gallium amalgam. Gallium can infiltrate the glass, so it should not be stored in a glass container.
It becomes liquid when heated to the melting point, then cooled to 0℃ without curing, and when converted from liquid to solid, its volume increases by about 3.2%. The hardness is 1.5~2.5. Gallium is stable in dry air at room temperature.
It is easily hydrolyzed, especially at physiological pH. Pure gallium is silver white and can infiltrate the glass, with a high boiling point and a low steam pressure at about 1500℃.
Heeger Materials offers a selection of over 100 high-purity products, including metals, metal oxides, and metal salts, with 99.999% purity or higher.
Application:
It is used in manufacturing semiconductor Gallium Nitride (GaN), Gallium Arsenide (GaAs), Gallium Phosphide, and Germanium semiconductor dopants.
Pure gallium and low-melting alloys can be used as heat exchange mediums for nuclear reactions.
It is used as a filler for a high-temperature thermometer.
It is used as a catalyst for esterification in an organic reaction.
The wide temperature range of liquid gallium and its low steam pressure allow it to be used for high-temperature thermometers and temperature presses.
Packing:
Because the density of liquid gallium is higher than the solid density, the volume expands at solidification, and the melting point is very low, constantly melting and solidification during storage. So the use of glass storage will break the bottle and infiltration glass causes waste, gallium is suitable for plastic bottles (not filled) storage.
Inquiry to Heeger Materials
Items marked with an asterisk (*) are required.
Privacy Information:
Heeger Materials respects your privacy, and we will NOT sell or provide your personal data to other third parties, or allow them to use your personal data for their own purposes. However, we would like to send you information from time to time by mail or email about our products and special offers in addition to the interest categories you've selected above. Read our Privacy Policy