More info
Boron Nitride machinable ceramics are with unique properties – from high heat capacity and outstanding thermal conductivity to easy machinability, lubricity, low dielectric constant, and superior dielectric strength – making boron nitride a truly outstanding material. BN Ring is available from high-temperature-(1900C)-formed 99% pure composite boron nitride materials.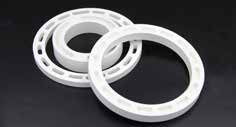 Boron Nitride Ring Advantages
Low wettability to molten metal

Relatively high thermal conductivity with low thermal expansion

Relatively high thermal shock resistance

Extremely high working temperature with proper inert gas protection (>3000C has been recorded)
Boron Nitride Ring Applications
Boron nitride ring has been widely used in the horizontal continuous casting separation ring of molten steel. Boron Nitride(BN), Hexagonal boron nitride (H-BN), and hot-pressed boron nitride are good self-lubricated ceramics that can withstand high temperatures and maintain their lubricating capability in a high vacuum environment.  Hexagonal boron nitride (H-BN) behaves similarly to graphite mechanically but offers excellent electrical resistance.
Boron Nitride ceramics from Heeger Materials can bear high temperatures in a high vacuum environment, plus it has excellent corrosion resistance and electrical resistance. Thus, Boron Nitride ceramic product is an ideal choice in a variety of industries, such as:
Linked undergraduate level

Lead plate with side sealing plate

Amorphous, nanocrystalline with a see-through screen

Special metal cathode and draft tube
Hexagonal Boron Nitride Materials Types
Pyrolytic boron nitride PBN: 99.99% boron nitride

High purity boron nitride HPBN: >98.5% boron nitride + boron oxide

Calcium Borate Boron Nitride CABN: >97.5% Boron Nitride + Calcium Borate

Aluminum Nitride Boron Nitride ALBN: Boron Nitride + Aluminum Nitride + Boron Aluminum Oxide

Zirconia Boron Nitride ZRBN: Boron Nitride + Zirconia + Boron Oxide

Zirconium Aluminum Boron Nitride ZABN: Boron Nitride + Zirconia + Aluminum Nitride + Aluminum Boron Oxide

Silicon carbide boron nitride SCBN: boron nitride + silicon carbide + boron silicon oxide
Hot Pressed Boron Nitride Ring Materials
Material

Description

BN99

Hot pressed at high temperature (1900C).

Excellent corrosion resistance and thermal conductivity. Limited wear resistance

Self-bonded and high purity (>99%)

BNBO

General-purpose material

Bonded by boric oxide

BNCB

Calcium borate bonded boron nitride

Enhanced moisture resistance

BN60

BN 60%, SiO2 40%

BN40

BN 40%, SiO2 60%

ZSBN

BN-45%, Zr2O3 45%
 Boron Nitride Ring Targeted Market
High-temperature furnace manufacturing

Ceramic manufacturing semiconductor

PVD coating

Microwave etc.
Inquiry to Heeger Materials
Items marked with an asterisk (*) are required.
Privacy Information:
Heeger Materials respects your privacy, and we will NOT sell or provide your personal data to other third parties, or allow them to use your personal data for their own purposes. However, we would like to send you information from time to time by mail or email about our products and special offers in addition to the interest categories you've selected above. Read our Privacy Policy