More info
Boron nitride is an advanced synthetic ceramic material whose unique properties - from high heat capacity and excellent thermal conductivity to ease of processing, lubricity, low dielectric constant, and excellent dielectric strength - make boron nitride a truly outstanding material.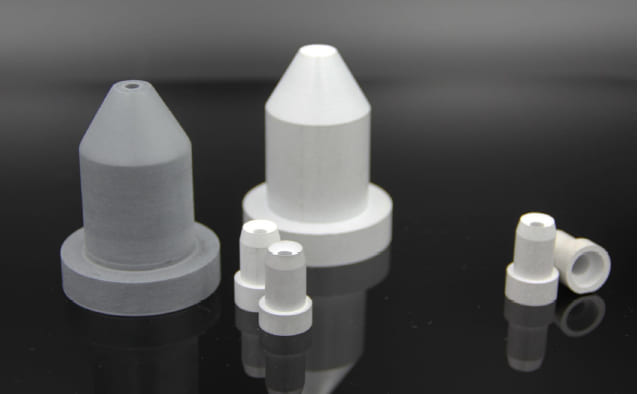 Boron Nitride Nozzle Specifications
Material
Description
BN99
Hot pressed at high temperature (1900℃).
Excellent corrosion resistance and thermal conductivity. Limited wear resistance
Self-bonded and high purity (>99%)
ZSBN

BN-45%, Zr2O3 45%
Boron Nitride Nozzle Applications
Electric insulators in vacuum system
Boron Nitride components for PVD, MOCVD, MBE system.
Nozzles for the nonferrous metals metallurgy industry
Spacers for glass melting
Insulators for high-temperature furnace
Hexagonal Boron Nitride Materials Types
Pyrolytic boron nitride PBN: 99.99% boron nitride
High purity boron nitride HPBN: >98.5% boron nitride + boron oxide
Calcium Borate Boron Nitride CABIN: >97.5% Boron Nitride + Calcium Borate
Aluminum Nitride Boron Nitride ALBN: Boron Nitride + Aluminum Nitride + Boron Aluminum Oxide
Zirconia Boron Nitride ZRBN: Boron Nitride + Zirconia + Boron Oxide
Zirconium Aluminum Boron Nitride ZABN: Boron Nitride + Zirconia + Aluminum Nitride + Aluminum Boron Oxide
Silicon carbide boron nitride SCBN: boron nitride + silicon carbide + boron silicon oxide
ZSBN material nozzle is a new material used to replace the zirconia nozzle. It is suitable for water atomization and aerosol chemical process, reusable, and suitable for various metal solutions, welcome to purchase.
Boron Nitride Nozzle Packing
HM's Boron Nitride (BN) Nozzles are carefully packaged in cartons boxes with foam protection to minimize damage during storage and transportation and to preserve the quality of our products in their original condition.
Inquiry to Heeger Materials
Items marked with an asterisk (*) are required.
Privacy Information:
Heeger Materials respects your privacy, and we will NOT sell or provide your personal data to other third parties, or allow them to use your personal data for their own purposes. However, we would like to send you information from time to time by mail or email about our products and special offers in addition to the interest categories you've selected above. Read our Privacy Policy