More info
Tantalum plate is widely used in national superconducting technology, capacitor shell, chemical industry, medical treatment, and other fields because of its high melting point, low vapor pressure, small expansion coefficient, good processing performance, good dielectric property, and excellent corrosion resistance. Tantalum alloy has high-temperature strength and excellent processing performance and can be used as structural materials for aerospace.

Heeger Materials supplies tantalum plates in a length of up to 3.2 meters and in a width of up to 800 millimeters.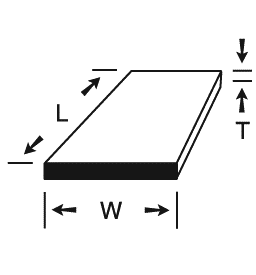 Tantalum Plate Specifications
Specification: ASTM B708
Material: R05200, R05400, R05252 Ta-2.5W, R05255 Ta-10W, R05240 Ta-40Nb
Size: thickness > 0.01875", width > 6", length < 7 ft
Temper: Annealed/Un-annealed
*If the width is <6", please check the tantalum strip/foil.*If the thickness is <0.1875", please check the tantalum sheet.
Tantalum Plate UNS Grade
UNS R05400, unalloyed tantalum, powder-metallurgy consolidation.

UNS R05255, tantalum alloy, 90 % tantalum, 10 % tungsten, electron-beam furnace of vacuum-arc melt, or both.

UNS R05252, tantalum alloy, 97.5 % tantalum, 2.5 % tungsten, electron-beam furnace or vacuum-arc melt, or both.

UNS R05240, tantalum alloy, 60 % tantalum, 40 % niobium, electron-beam furnace or vacuum-arc melt.
Tantalum Plate Order Info
Quantity (weight, number of pieces, or another suitable measure of quantity)

UNS grade (See above Tantalum and Tantalum Alloy UNS Grade)

Dimensions (Thickness, width, and length)

Additions to the specification and supplementary requirements, if any
Tantalum Plate Packing
Our Tantalum plate will be packed in a wooden case supported with soft materials to ensure that the products thus packed will not shift inside the cases.
Inquiry to Heeger Materials
Items marked with an asterisk (*) are required.
Privacy Information:
Heeger Materials respects your privacy, and we will NOT sell or provide your personal data to other third parties, or allow them to use your personal data for their own purposes. However, we would like to send you information from time to time by mail or email about our products and special offers in addition to the interest categories you've selected above. Read our Privacy Policy